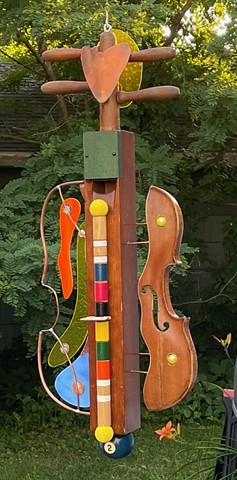 Organ Pipe Violin, June, 2023. Violin Frontpiece, Medium sized Organ Pipe, Copper Tubing, Stained Glass, Organ Pipe End-Stops, Sheet Copper, Glass Marbles, Croquet Pole, Billiard Ball.
HANGING AND FREESTANDING SCULPTURE FROM JANESVILLE, WISCONSIN.
I'm Mark Lajiness, a multimedia sculptor from southern Wisconsin.
If you'd like to see which shows and events I'm participating in this year, click on the "Art Fairs" link above. If you'd like to see my work, click on "Portfolio." and you'll go to a list of categories. If you'd like to see my birds, click on birds. If you'd like to see the cats, click on cats. I've currently got 346 images in all 17 categories on the site, representing work I've completed over the last few years (including 77 different mammals) I keep adding images as I make new pieces.
If you see something you'd like to purchase, I may have the piece on hand or (more likely) I may have sold it. However, I can re-create almost anything on this site, usually within a couple of weeks. If you'd like to ask about prices or make a purchase, please contact me at stellations@gmail.com or leave a note on the "contact" on this site.
Many of my pieces are priced in the neighborhood of $65. Most pieces are under $80. Little fish start at $25. Musical instrument pieces range between $75 and $500, with many of the violin pieces around $150.
Most of my materials have had a former life as furniture, musical instruments, roofing copper, and so on. I work with upcycled wood, copper, stained glass, and found objects, and do my soldering with a handheld propane torch.
If you'd like to bring me an object to incorporate into a sculpture, please contact me. I've used brass instruments, woodwinds, glasses, drums, bottles and various power tools.
While I have some standing pieces, most of my work hangs from monofilament cord to move in the breeze. Some pieces may hang outdoors, but most will last much longer indoors, hanging by a sunny window, near a fireplace, from a wooden ceiling or on a screen porch. This isn't "garden art" but sometimes, in certain settings, my work can hang outside during certain seasons.
Have fun looking around the site!